If you don't want your pet to come home teamed up or ill, and you don't wish the cubs of the neighboring bitch to end up in a bucket, do something for preventing them from these possibilities. Are you a liable pet owner? Spay your cat!
If you couldn't afford the operation till now, have a look at our article of special spay/neuter surgeries!
Green Zebra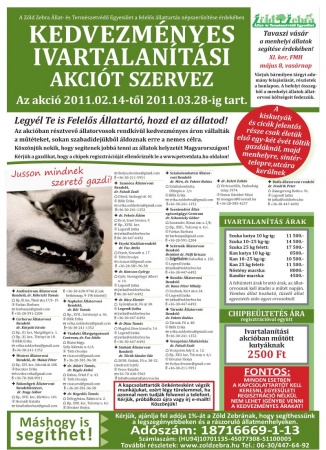 Discount spay/neuter in Cegléd and Nagykőrös
Hereby we would like to call the attention of pensioners and unemployed people that the new pet asylum of Cegléd organizes discount spay/neuter surgery from 1st March 2011.
In Cegléd: with the help of Dr. László Bús
Make your registry at phone number: +36 20 2479420
In Nagykőrös: with the help of Dr. Gyula Dávid
Make your registry at phone number: +36 20 9603902
Pensioners and unemployed people can have the spaying surgery done to their pet at a reduced price!!!
Spaying (bitches): 2000 HUF
Neuter (male cats): 1000 HUF
A Tetszik gomb eléréséhez sütik engedélyezése szükséges.