Behind me is a tiring working day. Travelling bumpily by public transport, in grey and dreary weather, I'm tired too. My biggest wish is to be home. My furry friends await me in nice numbers, both barking and meowing ones. I admit, I have missed them during the day.
If I can get the furnace working, it will be nice and warm quickly. But the first thing to do is to feed the hungry bunch dinner, they are already on the brink of starvation. Soon only the cats with hobbit ancestors try to prove intensively that one plate of dinner is no dinner, but I do ignore that from experience.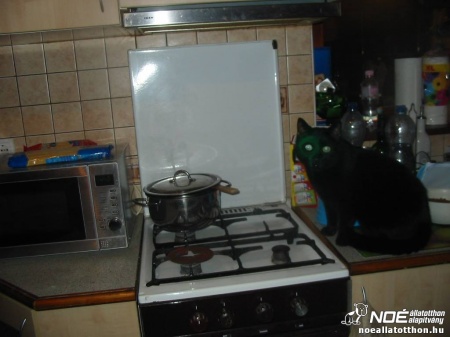 A hot shower is next, then I curl up on the sofa with a mug of tea, and my current favourite book (which will probably take forever to read, because sleepiness wins after a few pages). When I'm just about to get into a relaxed mood, when I hear an ear splitting scream.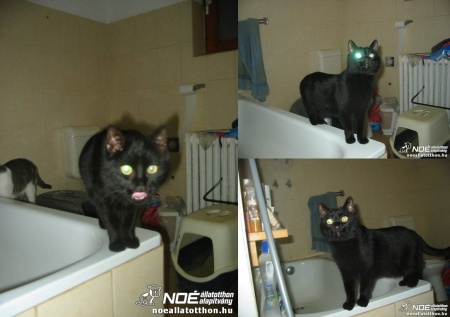 I run into the bathroom. Belfi is hanging off the tiles (God knows what Spiderman technique he used to get up there) hanging on for dear life to the top row with a thousand thirty-three nails. And of course he is screaming because getting up on these modern tiles is always easier than coming off…When I manage to stop laughing out loud, I help the deadly scared Belfi down, who looks at me with contempt, then tells me not to panic, he could have come off easily by himself…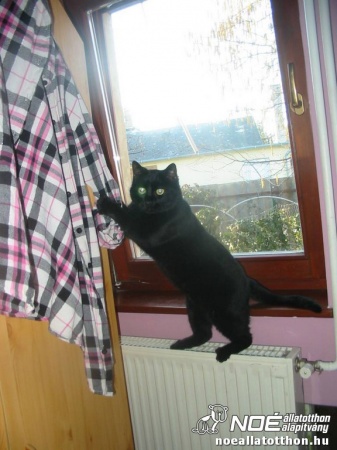 I ponder about this. Belfi is blind. So one would think him to be more careful and level headed than his sighted mates, and not climb to dizzying heights, for example. But I have already taken him down from the top of wardrobes, shelves, curtains, racks. Maybe he needs a fireman as a master. But the master should at least have a ladder, and a sense of humour…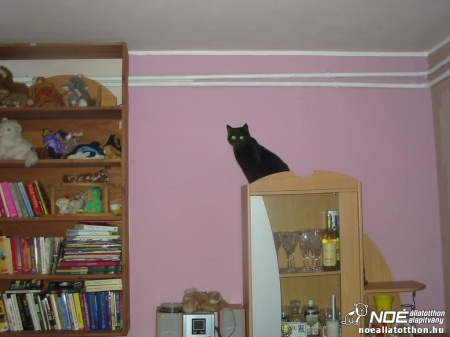 By the time I get back six furry friends occupy the sofa, and sleep softly curled up and purring. Two of them are curled up on my favourite (and everlasting) book. They blink sleepily as if to say don't move around that much it is already sleep-time. I adore them all.
Should you have a ladder, and a sense of humor, please don't hesitate to contact us: noecatrescue@gmail.com !
A Tetszik gomb eléréséhez sütik engedélyezése szükséges.