Yes, yes, we're one pack together!
We just want to make it clear at the beginning, we aren't the three musketeers or the three little pigs. Although we arrived in one pack, we're unique togteher and separately too.
It's true that we're vivid, climb everthing and we love killing each other ….we're young! It's not a question that at the age of 4 months we're cute, sweet, playful and very fast. We three can run into four directions at the same time.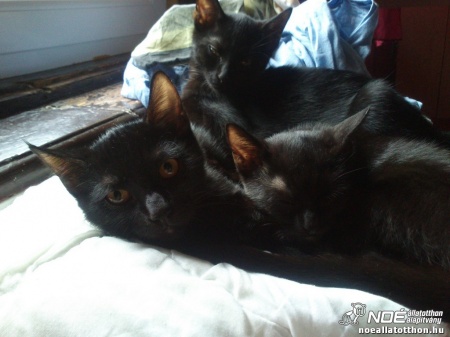 So what? :) And…we fart too. So what?
Ok, let's introduce ourselves.
Diego is the man in the family. First he's a bit afraid of strangers but becomes friends soon with anybody. As a man, he loves eating, and takes it granted to have his tummy patted after it. (Don't tell him that I'm telling you this, but he farts the most, psssst!!!)
Nola, my elder sister loves to steal things. She must think that she's some kind of a panther because she regards everything as a prey: it can be a pair of shorts or a huge towel. After preying it, she pulls it under the bed and lies on it. I think she's totally crazy 
I'm the smallest one, I got the name Greti from the peopleat Noe. We can say that I'm the cutest and kindest in the pack. My sister and brother love to beat me but I don't let myself  Although I get the most slaps, I love my siblings and they love me too. When I fall asleep, they lie next to me and clean me.
I don't even have to say that I'm the cutest of the three of us! When you only look at me, I purr! I love to have company (it can be any type of animal or human), but when I'm alone, I cry.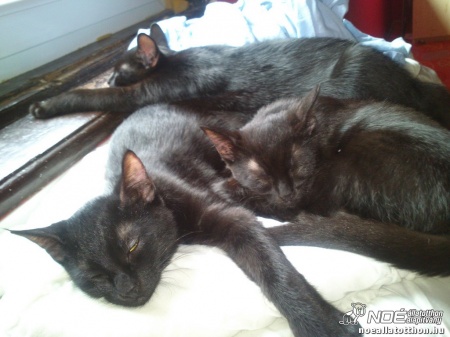 We're the black pack. Don't judge for first impression! We're black, but our foster mum has been lucky since she got us. We love to sleep over each other! There's nothing better than that…maybe only a loving owner for our whole lives.
We can be got one by one but we'd be happiest if you adopted all of us 
You can apply for us here: noecatrescue@gmail.com
A Tetszik gomb eléréséhez sütik engedélyezése szükséges.