The adventures of the Dragon sisters II.
I'd like to say sorry to everyone reading this diary. I mislead you when I said I'm writing about cats. These two are definitely not cats. They can be originated from a few other animals, let's see what we have:
1. Piranhas: if it's about food, anywhere and anytime. The Benyesz group get their food, and these two dwarves arrive as quickly as hell, and eat like there's no tomorrow. Altough if they play jokes on a 8,5 kg cat, maybe there really won't BE a tomorrow for them. If we grab them they keep on chewing on the food that's in their mouth. So the most appropriate title is: piranhas, who only have one day left to live.
2. Cockroaches from Joe's Apartment: food again. Do you remember when Joe got a big steak for the cockroaches, who jumped on it, and in a few moments there were only bones left? Same here. Three bites, and it's all gone.
3. Sloths: come ooooon…. Can't you see that I can't even move? My eyelids are as heavy as lead...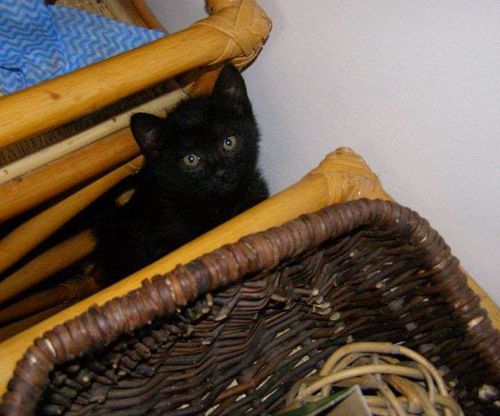 These are the options. As I look at their teeth I'd stick with piranhas.
I'd like to add something to the food topic: we keep the current daily portion of cat food on top of a rattan furniture, which is approximately 1 m tall, so it would be that a 800 g kitten has to give it a little extra effort to get up there. Oh no. They climb up there so easily and perfectly that even Bear Grylls would be jealous. Of course they can't get down on their own, altough one of them tried if she could fly with her four legs spread wide. It didn't go well, but she's alright.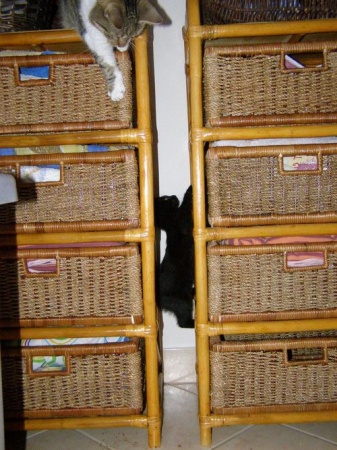 Each of their tests came out negative, and they seem to be in good shape (I mean their getting quicker and quicker in their laps of eating-getting things done-playing-sleeping). We introduced them to our other pets. We had a challenge with Benyesz (1st pic) when we brought Bogyó (2nd pic) home, but poor thing's like we've lost him for good this time. He's an adult, and we bring two little things who are always jumping around. Benyesz would make 12 Mokkas or Pupillas looking at his size. I've noticed that the little ones fit under Benyesz's tummy. Cool, huh? I'm not sure if Benyesz realizes that these two are cats too, the same kind of animal as him. I think he takes them for pests, and that's not too far from reality.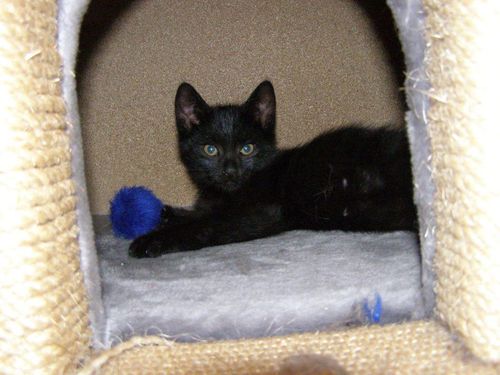 Bogyó – who's actually a sweet little thing – hisses at the little ones like a cobra, and for this the kitties tried to scare her with their tails in the sky. But, beacuse their bodies are a bit tiny, and they have 5 strands of hair altogether, they looked kind of funny. Bogyó went downstairs and later she jumped on me from the table, like she was going to say "I love you, Mommy!". I told my boyfriend that if somebody asks about my scars, I'll tell them it's beacuse of domestic violence.
The next discovery is that they're extremely hard to find. It's not that they hide on purpose, it's because they become one with their environment. If there's a black or dark blue shirt/bag/pair of trousers on the sofa, how can you notice a black cat on top of it?! And when I start to panic and begin calling out for them like an idiot, I notice where they are, and I'm surprised they don't start laughing. They just look at me, I think they're feeling sorry for me. 12 weeks old cats can do this so nicely.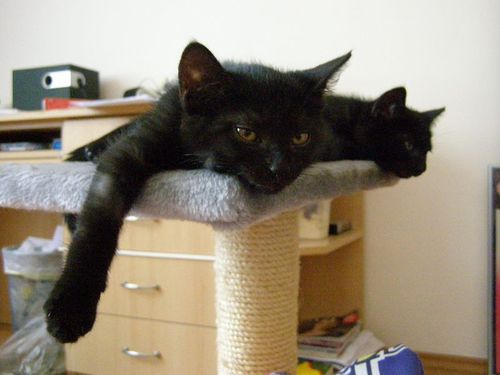 Of course their socialization is in the making, Bogyi became a good mum for them after the first fights were fought, she licks the kittens, who seem to be very grateful, only to get two slaps the next minute. I'm glad at these times that their memories only last for 2 seconds, and they can't use any tools.
Kriszti
A Tetszik gomb eléréséhez sütik engedélyezése szükséges.