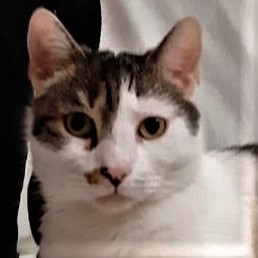 Name: Kosztya
Sex: Tom
Born: 2012.04.15.
Arrived: 2019.01.14.
Virtual adoption: Has no virtual master
I want to virtually adopt him/her
Show previous virtual masters
Nick
From
Till

Nem volt még támogatója
If you have questions about Kosztya, please send an e-mail to !
Kosztya and his siblings entered from our waiting list. They lived on the streets with their mother who perfectly took care of them. Kosztya is extremely shy, scared from touching - but doesn't hide so often as before, comes out, sits close to us and watching at you. We hope that soon he will be a cuddly, purring young lad as well.
If you are interested, please contact us at noecatrescue@gmail.com
More images
A Tetszik gomb eléréséhez sütik engedélyezése szükséges.
Megosztom a Facebookon