1.
2
|
Next
---
Our new injured patient: Gemma
2016.10.04.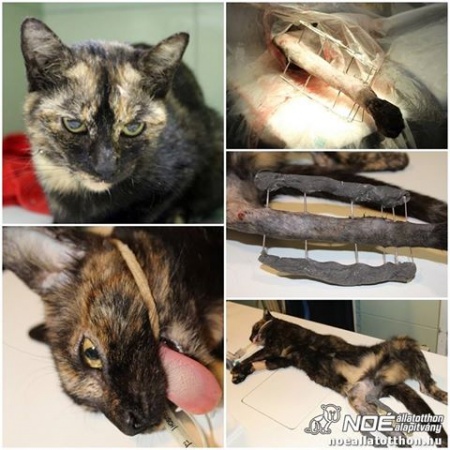 Gemma's fate is not only tragic because she's seriously hurt and because right now it's doubtful whether her leg will every properly mend; she used to be an indoor cat but her owner moved house and abandoned her on the streets. The neighbours fed and cared for her the best they could, but she had no practice in navigating the streets and so the worst happened: She was hit by a car. 😢
Three Blind Kittens
2016.09.30.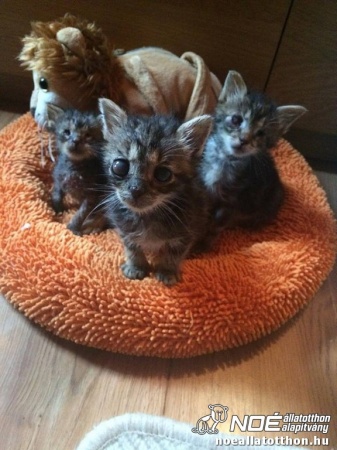 This is Blue, Meadow and Willow, the Three Blind Mice - well, not mice, but kittens ❤
Our volunteer found them in the beginning of September; they were only 2 weeks old at the time, their eyes just opening - or they would have been, had it not been for the brutal infection that made 5 of the 6 eyes to lose their sight. 😢 Of course it wasn't just their eyes, they were in a horrible condition altogether.
A category itself. A notion. Zolika.
2015.08.04.

We are looking for a keeper for Zolika. We are looking for someone who, even for a moment only, tries to look at Zolika from our point of view. This moment would be enough for him or her to fall in love with him immediately….
He is not brave , he is just blind –or the ponderings of a temporary master…
2015.02.11.

Behind me is a tiring working day. Travelling bumpily by public transport, in grey and dreary weather, I'm tired too. My biggest wish is to be home. My furry friends await me in nice numbers, both barking and meowing ones. I admit, I have missed them during the day.
Nightmare in Csepel
2012.01.10.

Cats' health status was the same, they were closed besides two wings of one window to keep them out of dogs. All of them were dirty, full with worm, fleas, itchy ears and abnormally thin.
The adventures of Dudesz Dudder aka
2011.12.06.

This week I was hitting Domestos and disinfection towel usage records plus teaching "Debilke" to speak the cat-language. But let us start from the beginning.
Mizu
2011.11.03.
Hi there, The girls told me that I should get some brave as Diego and Diénnyécske (alias Melon) had, and write to You! I have to be honest. I'm sick.
Dylan, else when a slanted headed cat writes a poem
2011.10.17.

Hello Everybody! I'm Sundays budy, my name is Dylan. (By the way Sunday already has an owner, because he had written a quiet romantic, funny and nice speach here.) Well he told me, that because my head is a bit slanted I also have owner.
Sunday - super life even on 3 legs
2011.10.12.

Hello Everyone, The girls told me to be funny, nice and romantic. So I would like to start with a Bing Crosby song that goes like this:
Aid Concert and Cat adoptive day
2011.09.21.

The big day finally come, for which everybody was diligently preparing in the Noah Shelter, similar like us, Cat Rescues.
Csacska needs help
2011.08.04.
Csacska was found by an animal lover in the garden. She was taken to the vet who wanted to put her to sleep saying that nobody would want the cat with three legs! Of course they did not agree to it!
Adventures of the Dragon sisters III.
2011.08.03.

Life's wonderful, the birds are singing, lalalala… Mrs Osama and Chubby are still hanging out at our place.
Mizu
2011.08.02.
Our cat, Mizu (What's up) was found in the city centre based on residential notification on one of the hottest days of the year.
The Noé feeling - written by a volunteer
2011.07.31.

Noé feeling. The whole thing started at the march. There is one in every year on World Animal Day.
What kind of temporMommy would you be?
2011.07.28.

Our test will show what kind of temporary home you would provide for a kitty as a temporary mummy. ;)
The adventures of the Dragon sisters I.
2011.07.13.

A young couple was raising two cats, one was from an underpass, the other one was saved from a shelter after the red sludge catastrophe.
The adventures of the Dragon sisters II.
2011.07.13.

The adventures of the Dragon sisters II.
I'd like to say sorry to everyone reading this diary. I mislead you when I said I'm writing about cats.
Alma
2011.07.07.

Alma, a tiny kitten, ran in front of us desperately from a bush in the residential area of Ujpest. Lead by my protective instincts I picked her up right away and I saw a dog chasing after her from the bush.
Tombs of 3 cats
2011.07.06.

July 4th started as an ordinary Monday. Crabby and early. Everything was the same as on other Mondays except for the view the caretakers who arrived to the Shelter first saw.
The Two Terrible Scallywags – Report, Chapter II.
2011.06.22.

To prevent us from the bullying demands of many hundreds (source: The Two Terrible Scallywags – Report, Chapter I.) we capitulate as shown by this picture, and publish the report on our suspects describing events and changes experienced by the two temporary observers.
---
1.
2
|
Next